We pride ourselves on providing superior commercial and residential carpet cleaning.
Service First Carpet Cleaning and Restoration technicians are professionally trained in the carpet cleaning and restoration services offered. Each of our employees are personally trained by Tom to ensure that our work is up to the industry and carpet manufacturers' standards, protecting the health and well-being of our clients and their families including their pets.
Carpet Cleaning Method: Hot Water Extraction
Service First Carpet Cleaning and Restoration uses truck mounted hot water extraction: the most efficient method of carpet cleaning. Truck-mounted cleaning is the method recommended by all major carpet manufacturers and is the only cleaning method that won't void carpet warranties. Many homeowners are not aware that if their carpet is not cleaned by a certified carpet technician, their carpet's warranty may become void.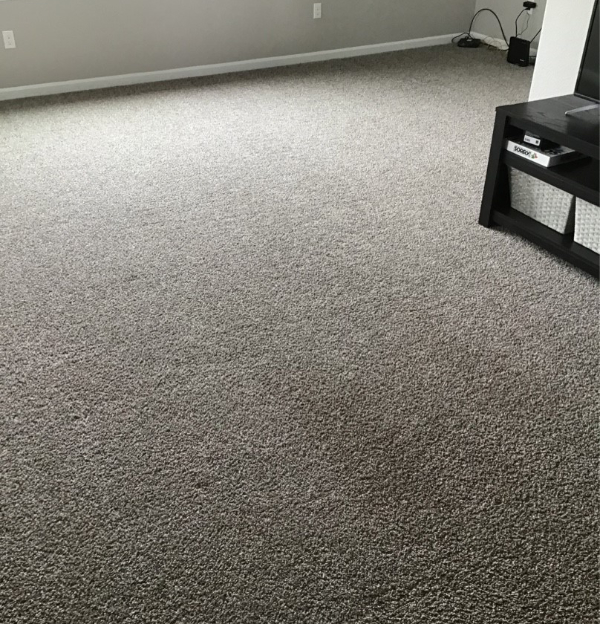 Step 1: Pre-Inspection
Upon arrival, our uniformed technician will do a walk-through inspection of your carpet including black light inspection to identify any biological stains, like pet urine. We utilize this time to evaluate the condition of your carpet and identify any issues that may need addressed during our cleaning. Also during this time we can discuss anything else you would like to have cleaned, including upholstery or area rugs. Please be sure to inform us of concerns you have before we start cleaning so that we may serve you better.
Step 2: Vacuuming
Vacuuming of the carpet is important so all loose dirt and other materials are removed before the hot water extraction process is initiated. We may not need to perform additional vacuuming if the carpet has been recently vacuumed.
Step 3: Setup/Furniture Moving
We bring in our cleaning equipment and materials we need and set them up accordingly. These include hoses, cleaning tools, cleaning products, corner guards, protective shoe covers, etc. If asked to do so, we are glad to move any furniture such as sofas, chairs, and coffee tables. Larger pieces such as beds, dressers, and entertainment centers will not be moved due to their size and weight. Our cleaning wand reaches under beds, so those areas can still be cleaned. While cleaning, we place foam blocks or plastic squares underneath any furniture that we move so that there aren't any issues with furniture stain or rust caused by furniture being placed on wet carpet. Please inform us of any furniture with weak legs, loose tops, or previous repairs.
Step 4: Pre-Spot/Pre-Spray
Areas that we pointed out as potential problem stains are pre-treated with different products, depending on what originally made the spot. This is a key factor for removing them during the cleaning process. Once spot staining is addressed, the carpeted area that we will clean is pre-sprayed with a bio-degradable carpet detergent that sits on the carpet to break up the soil, dirt, grime and whatever else is lodged in the carpet fibers.
Step 5: Carpet Agitation
We use a counter rotating brush that removes pet hair, dander, and other debris deep in the carpet fibers. Removal of this debris helps eliminate the "wet dog" smell when carpets get wet. Additionally, elimination of the dander, pet hair and other debris help improve indoor air quality leaving your home significantly cleaner and healthier.
Step 6: Rinse and Extract
Once the dirt and debris has been loosened, our state-of-the art truck-mounted hot water extraction cleaning process thoroughly flushes the carpet pile. Pressure and heat (180°-190° F) are regulated to prevent the carpet from being overly wet, while still sanitizing your carpet thoroughly.
Step 7: Post-Spot Treatment
If any spots are not removed during the cleaning process, specialty spotting techniques are employed. Note: Some stains may simply be permanent. Ideally, our technician identifies these stains for you ahead of time.
Step 8: Carpet Grooming
We hand groom all cleaned areas with a carpet rake that gives your carpet a "finished" look. This Step also aids in evenly coating carpet fibers with the protector if you had us apply it to your carpet.
Step 9: Post-Cleaning Inspection
Our technician does a final walk-through with you to point out the cleaning results and to make sure that you are completely thrilled with the job we have done. That's the carpet cleaning process from Service First Carpet Cleaning and Restoration!